Mahila is the most respected word for a Telugu woman. We are trying to
introduce to the world - telugu women and their achievements.



Gruhinulaku Chitkaalu :: (Tips for housewives)


House-keeping tips ::
1. Bed room kitikeelaku mudhuru rangu curtains kaakundaa laetha rangula paradhaalu vaadithae baaguntadhi.

2. Chikku nu theesaetappudu vedalpu palla dhuvvenanu kaani, brushnu kaani upayoginchaali.

3. Dhuvvenanu nelaku rendu saarlu vaedineetitho subhra parachaali. Dhuvvena loni mattini

4. Eegalu dining table pi vaalakundaa vundaalantae table meedha pudheena aakunu vunchithaee chaalu.

5. Evari duvvena vaarae vaadandi. Chundru vyaapinchandu.

6. Nimma rasaanni chaala kaalam nilva cheyyaalante, kodhdhiga uppu kalipi, fridgelo unchandi.

7. Paatha tooth brush ni dhuvenalanu subhra paruchukotaaniki upayogapaduthundhi.

8. Paatha tooth brush lanu paaraeyakandi. Avi wash basins, waterbottles moothalu, dhudhdhulu, gaajulu laantivi subhraparachadaaniki yenthagaano upayogapadathaayi.

9. Pasupu kalipina neetitho kitchen floor thudishte, eegala baadha undathu.

10. Raathri samayaalalo bhayam kolpae yerra bed light kaakundaa green colour gaani neelamu rangu balbulu
kaani vaadithae aahlaadhakaramugaa vuntundhi.

11. Raathri bayataku vellae tappudu intlo konni lights vaesi unchaali. Lopala manushulu unnaarukoni dongalu padaru.

12. Ullipaayalanu chithakotti manchamu pakkana vunchithae dhomalu raavu.

13. Vendi paathralu kadigae neetilo kodhdhigaa paalu kalipithae aa paathralu thala thala laaduthaayi.



Features of 7-Piece Cookware Set ::

One fry pan, one lidded saucepan, one lidded stockpot, one lidded chef's pan
Calphalon heavy-gauge aluminum, stick-resistant finish, and stay-cool handles
Hand wash with warm water and cleaner; oven- and broiler-safe
Anodized for hardness
Lifetime warranty
Calphalon Commercial Hard-Anodized 7-Piece Cookware Set-Click to buy






Health Tips ::

1 . Aalasyamugaa bhojanamu chaesinaa, vindhu bhojanumuku vellinaa, bhojanamu tharvaatha lavangaalanu thintae aa aahaaram twaragaa jeernamayyaenduku dhohadha paduthundhi.

2 . Allamu upayogam anthaa inthaa ani cheppalaemu. Yendhukantae dhaanikunna prathyaeka sthaanam atuvantidhi. Allamunu mukkalugaa kosi uppu adhdhukoni thinadam valla kadupunoppi, virochanaalu thaggipothaayee.

3 . Carrot laanti pushti karamaina kooralu baagaa thintae cancer raadhu. Veelainanthamatuku alaantivi pachchivi thintae manchidhi. Kadigi, tharigi aa mukkalni thinavachchu. Mukyamugaa pillalaki tharachu ilaantivi isthundaali.

4 . Cheviloki purugu dhoorithae torch light veliginchi chevi daggara unchitae adhi bayataku vachchaestundi.

5 . Draaksha pandalalo potassium, clacium, magnesium, inumu vanti poshaka padhaardhaalu unnaayi. Sareeraaniki kaavalasina ushna sakthini, jeerna sakthini kaligisthaayi. Vvyaadhi nirodhakathanu abhivrudhdhi chaesthaayi. Draakshalo glucose vundhi. Idhi sareeraaniki kaavalisina balaaniki upayogapaduthundhi. Keella vyaadhulu raakundaa nivaarinchae gunamu draakshalo vunnadhi kaabatti draaksha divya aushadhamu.


Top
6 . Endalo thiragaalsi vastae, light color dusthulu dharinchandi.

7 . Glaasu neetilo nimmakaaya pindi moodu chenchaalu allamu rasamu kalipi thraagithae jeerna kosa sambandhamaina vyaadhulu thagguthaayi.

8 . Goru vechchani neetithonae thalasnaanam cheyyali.

9 . Itharulu vaadae dhuvvenanu upayoginchakoodadhu. Thamaku pratyaekangaa oka dhuvvenanu vunchukovaali.

10 . Jalubu,daggu untae tala snaanam cheyyakandi.

11 . Jalubu, dhaghghu bhaadha yekkuvagaa untae, padukoboyaemundhu oka glaasedu vaedi paalalo chitikedu pasupu, koncham miriyaala podi kalipi thaagithae sari. Thellavaarae sariki annii sardhukuntaayi.

12 . Koorallo pasupu vaadandi. Pasupu jeerna sakti penchuthundi.

13 . Mahilalu rojuku 3 cups kannaa ekkuva coffee thaagadam manchidhi kaadhu.

14 . Majjiga ekkuvagaa thaagandhi-rogaalu dhaggaraku raavu. Summerlo inkaa manchidi.

15 . Nimma chippa tho thala meedha rudhdhukuntae paelu, pundlu, chundru laantivi raavu.

16 . Panti noppi nivaaranaku lavangaalanu namalatam manchidhi.

17 . Rakthaanni sudhdhi chaeyadamulo vellulli amoghamugaa pani chaesthundhi.

18 . Tha+ajaa aakukooralanu prathi roju thinaali.

19 . Tomato,Beetroot,Cabbage,thotakoora kaadala rasam thaagithae baruvu thagguthaaru.

20 . Tulasi aakulu thinte ajeernam cheyyadhu.

21 . Vada debba raakundaa, vaesvilo aarogyakaramugaa vundaendhuku o glaasudu majjigalo thaginantha uppu, nimma rasamu, panchadhaara, thinae soda uppu kalipi thaagithae manchidhi.

22 . Ventrukalu peekuthunnatlugaa gattigaa jada vaesukokoodadhu.

23 . Vontiki pasupu raasukuni goru vechchati neellatho snaanam chaesthae yetuvanti charma vyaadhulu raavu.

24 . Yaalakkaayala podini rendu spoonla thaena lo kalipi theesukunntae - jalubu, dhaggulanu vadhilinchukovachchu.




Here is the first self-care book for women based exclusively on advice from women doctors. Written with the cooperation of the American Medical Women's Association, this book offers simple, practical solutions to more than 200 health problems.
The Doctors Book of Home Remedies for Women : Women Doctors Reveal over 2,000 Self-Help Tips on the Health Problems That Concern Women the Most




Beauty Tips ::

1. Apple pandlanu sannaga tharigi mukamu pai pettukoni, visraanthi theesukoni, 15 nimishaalu tharuvaatha mukamu kadukkuntae aakarshineeyamuga untundhi.

2. Athi challani neetitho kaani athi vechchani neetitho kaani snaanamu chaeya koodadhu. Goru vechchani neeru sraeyaskaramu.(yae kaalamaina sarae)

3. Chali kaalam pedhavulu pagili, poralu oodi chaala baadhaga untundhi.Paerina neyyi pedhaalaku raasukovaali. Peanut butter kaani, coco butter kaani vaadithae pedhavulu poralu choopavu. Lipstick raayadamu kanna pedhavulaku vennapoosa raasthaenae manchidhi. Neyyini, thaeenanu, kooda raayavachchu. Kramam thappakunda veetini raasthoo untae pedhavulu thama soundaryanni kolpokunda vuntaaee.

4. Endaloki vellaetappudu sunscreen lotion raasukondi.

5. Eye brow pencilni chekki fridge lo vunchithae tharachu virigipokundaa vuntundhi.


Top
6. Kanubommalu raegipoyi nappudu vennathogaani, gel vanti cream tho kaani adhdhithae kanubommalu andhamugaa, savyamugaa vuntaayee.

7. Naajooku Nadumu:Sannani nadumu yentho sogasugaa aakarshaneeyamuga vuntundhi. Ayithae nadumu gurinchi thagina sredhdha theesukuntae aa aakarshana inumadisthundhi. Kovvu pattae padhaardhaalu yekkuvugaa theesukokoodadhu. Nadumunu biginchaesaelaa, biguthu vasthraalu dharincha koodadhu. Thaelika paati vyaayaamaalu, walking, jogging, vantivi nadumunu naajooku gaa vunchuthaayi. Raathri bhojanamu chaesina ventanae nidhra pokundaa, nidhraki bhojanaanikii naduma kaneesam rendu gantala viraamamu vundaali.

8. Nidhra vachchae tappudu balavanthamugaa chadhavaradhu. Kallalo neellu vasthae aa kallaku ventanae vishraanthi ivvaali. Taajagaa aahaaram theesukovadam, yekkuvugaa neellu thraagadam, exercise chaeyadam, vitamin A thakkuva kaakunda choosukovadam chaala avasaram.

9. Meegada, swachchamaina senagapindi kalipi mukhaaniki raasthae yendipokunda, andamuga untundi.

10. Rojoo kobbari noonae (laeka aamlathailam, mandhaara thailam) thalaku raayadamu manchidhi.

11. Snaanamu chaesae neellalo o kappu paaluposi snaanamu chaesthae sereera soundaryam inumadisthundi.

12. Thalaku theesukunae paapidi kooda thinnagaa, andhamugaa, vundaelaa choosukovaali.

13. Velluli rasam raaste motimalu maayamautaayi.


Child Care Tips ::

1. Vaamunu vaeyinchi podi chaesukoni, aa podini chinna pillalaku annam thinae modata mudhdhalo

2. kalipi pedithae annam sulabamuga jeernam avadamaegaaka, chaala aarogyakaramuga untundi.

3. Vaesavi kaalamulo pillalaku nylon, polyester, wollen chokkaalu, gownlu, laantivi veyyakoodadhu. Paluchani glasco kaani, cotton dusthulu kaani lightgaa undaevi veyyali.

Cooking & Kitchen related Tips ::

1. Poori pindi kalipae tappudu dhaantlo chitikedu chakkera kalipithae pooreelu kaalina chaala saepatidhaaka appudae poyyi meedha nunchi dhinpi natlugaa kanapaduthaayi.

2. Thaene nijamainadho laeka panchadhaara paakamo gurthinchadaaniki aa bottle ni fridgelo vunchandi chaalu. Gadda kadithae adhi panchadhaara paakamani grahinchaali.

3. Aamlet vaesukunaetappudu chitikedu senaga pindi vaesthae pedhdhagaa ponguthundhi.

4. Thaene bhadramuga, subramuga vundaalantae, o nirmalamaina seesaalo posi, rendu moodu lavangaalu andhulo veyyali.

5. Mixie jar loni blades padhunugaa vundaalantae crystal salt ni dhaanilo vaesi grind chaeyaali.

6. Mixie jar nu pettinappudu adhi mixie ki sariggaa pattinatlu amarindho laedho nani check chaesukunna tharvaathanae mixie ni upayoginchaali. Mixie ni upayoginchae samayamulo mixie off chaeyakundaa jar moothanu theeyakoodadhu. Mixie ni adhae panigaa yekkuva samayamu vaadakoodadhu.

7. Nimma panduni kodhdhi saepu vaedi neellalo unchaaka kosi pindithae, rasamu baaga vasthunndhi.

8. Pappu udikaakae uppu vaeyaali. Laekapothae udakadaaniki yekkuva samayamu theesukuntundi.

9. Bombairavvanu noonae laekundaa vayinchithae purugulu pattadhu.

10. Biscuits unchina dabbalo oka chemcha panchadhara kaani blotting paper kaani unchithae aa biscuits karakara laadu thuntai.

Andhra Kitchen :
Daddojanam, Rasam modalagunavi thayaaru cheyam telusukondi.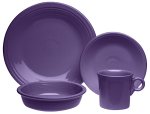 Fiestaware Plum 831 4-Piece Place Setting from Homer Laughlin
Features:
Kick off a Fiestaware collection with this 4-piece set.
Vitrified china with lead-free glaze.
Dishwasher and microwave safe.
10-1/2-inch plate, 7-inch plate, 6-7/8-inch bowl, 10-1/4-ounce mug.
Complements additional Fiestaware pieces for a well-matched set.


Review :
A timeless classic!, September 18, 2000 :
Reviewer : Karen Canzoneri, from San Mateo, CA, USA.
I've had my Fiestaware for over ten years now and I never get tired of it! I purchased it in my first marriage and got it all in the divorce. I have since remarried - when I was completing my bridal registry I had absolutely no wish to register for dinnerware. What can I say? A classic American design, and it comes in a rainbow of colors...you can keep all one color or mix and match (as I did). And these dishes are DURABLE. I have not broken a single one! In addition, they are great sizes -- the cereal bowls, especially. And what a great value!

Editorial Reviews
Amazon.com
The perfect set to kick off a Fiestaware collection, equip a college dorm room, or pair with other Fiestaware pieces for a larger set, this four-piece place setting from Fiestaware consists of a dinner plate, salad plate, bowl, and mug. Celebrated in the 1940s, '50s, and '60s for its streamlined art deco look and colorful glazes, Fiestaware is enjoying a remarkable comeback today. All pieces in this set have the signature Fiestaware rings and match Fiestaware pieces in plum or subtle colors such as yellow or pearl gray. With over 50 Fiestaware dinnerware and accessory pieces to choose from, you can build your collection over time starting with this one-person set. The 100 percent lead-free glaze is nonporous, so it won't absorb foods, and it's durable enough to withstand the microwave and dishwasher. Some stainless-steel flatware may leave marks on the plates, but these can be easily removed with a nonabrasive cleanser. -- Emily Wolf





Gardening Tips ::

1. Gulaabi chetlu penchukovadaaniki November-February anuvaina kaalam.
Arogyakaramaina, aandakaramaina manchi hobby gardening.

2. Gulaabi mokkaku prathi roju neeru pettali. Top

3. Jaaji, malle chetlaki cofee, tea decaution poyyandi.

4. Kamalaa palla pai-thokkalanu baagaa yenda petti podi chaesi, aa podini neellalo kalipi, mukaaniki pattinchi oka ganta tharuvaatha mukam kadukkuntae mukaaniki nunuputhanamu vasthundhi.

5. Kanakaambaraalu, chaemanthi, maruvam baaga peragaalantae isuka kalipina mattini vaadaali.

6. Karivaepaaku chettuki biyyamu kadigina neellu poyyandi.

7. Prema poorvakamuga mokkalani penchadamu valana baaga peruguthaayi ¡§C ani vignana sastramu niroopistundhi.

8. Seethaa kaalamulo chetlanni aakulu raalusthayi. Avanni chimmi bayata paareyyakandi. O moola chinna goyyi thravvi andhulo aa aakulanni veyyandi. Meeru tharigina kooragaayala thokkulu, kaagithaalu yae cheththaina sarae andhulo veyyandi. Konni rojulaku manchi ¡®composte yeruvu¡¯ thayaaravuthundhi. Dheenini yae mokkakaina vaadochchu. Mokkalu yaepugaa peruguthaayi.

9. Udhayam poota ayithae padhi gantala loga mokkalaku neeru pattali. Saayanthram samayamlo ayithae ayidunnara gantala tarvata neeru pattali. Madhyaanna samayumlo mokkalaku neeru poyakoodadhu. Udhayam saayanthraalalo yaedo oka poota chaalu. Ayithae baaga yendalu untae udhayam, saayanthram kooda pattali.

Miscellaneous Tips ::

1. Chirunavvu yenthati kashtamaina paninaina saadhimpa chaesthundhi.

2. Ungaram vaeliki bigusuku pothae koncham saepu aa vaelini manchi noonelo munchi ungaraanni theeyandi. Suluvugaa vasthundhi.

3. Maamoolu kaagithaaniki perforation (kaagithamu chimpadaaniki veelugaa kannalu vundaedhi) kaavaalantae, dhaaramu laekundaa kuttu mishanu meedha kudithae, saripothundhi.


Pativratalu ::

Bhartanu thappa inkokarini thalachukoni pavitramaina sthreelu, bharta kosam praanaalaina thyaagam cheyyadaaniki venukaadani vaaru, bharta kosam enno samvatsaraalu vechi choochina vaaru pativratalu.`

Anasuya
Chandramati
Damayanti
Sakuntala
Savitri
Sita

Andhra Maha Kavayitrulu ::

Molla :: Ramayanamunu chinna chinna padyamuluga rachayinchiina kavayitri (She has rewritten Ramayan in small poems). Belongs to 16th century.

Tharigonda Venkamma :: Venkataachala Mahaatyamunu rachayinchina bhakta kavayitri. (She wrote about the greatness of Lord Venkateswara). Belongs to 19th century.

Evaro annaaru ::

Adhi kutumbamaina, graamamaina, raashtramaina , prapanchamaina , daesamaina sthreeni gouravisthaenae dhaani gouravamu inumadisthundhi.

Chaala mandhi sthreelu premincharu. Oka purushudini yennukuntaaru. Athadini preminchi kaadhu. Athadi premanu pondhatamu kosam.---Alpanjoo

Oka veyyi mandhi purushulu thamanu manasaara preminchina sthreelanu anyaayamu chaesi, mosamu chaesinappatiki, sthree thaanu preminchina purushudu maatrham thanani mosam chaeyadani nammuthundhi. Andhukae aame athadini preminchagaluguthundhi---Swaakar.

Sthree kaevalamu soundaryaanikae prathinidhi kaadhu. Sakthikhi, yukthiki, soukumaaryanikee, saamardhyaanikee pratheeka.

Top