Sumathee
Akkarakuraani chuttamu......
Thana kopame thana sethruvu......
Thalanundu vishamu phanikini......
Kanakapu simhaasamuna......
Adigina jeetham biyyani......
Yeppudu sampadha galigina......
Upakaariki nupakaaramu......
Sarasamu virasamu korake......
Cheemalu pettina puttalu......
Vinadhagu nevvaru cheppina......
Balavanthuda naakaemani......
Piluvani panulaku bovuta......
Navvakumee sabhalopala......
Koorimi gala dhinamulalo......
Vaemana
Chitthasuddhi galigi chaesina punyambu......
Anaga nanaga raaga mathisailluchunundu......
Aathmasuddhi laeni yaachaaramadhiyaela?......
Ganghigovu paalu gaeritadainanu chaalu......
Maedipanduchooda maelimai yundunu......
Alpudepudu palku naadambaramugaanu......
Vidyalaenivaadu vidyadhikula chentha......
Uppulaenikoora heenambhu ruchulaku......
Uppugappurambu nrokkapolikanundu......
Annidhanamulunu nannadhanamae goppa......
Kulamuloana nokadu gunaheenudundina......
Mirapaginjachooda meedha nallaganundu......
---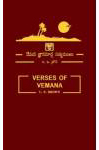 Telugu: Verses of Vemana by CP Brown



Brief Description:
In the Telugu original with the English version.




---
Sumathee
Akkarakuraani chuttamu,
Mrokkina varameeni vaelpu, moharamuna thaa
Naekkina bhaarani gurramu,
Grakkuna viduvangavalayu gadharaa sumathee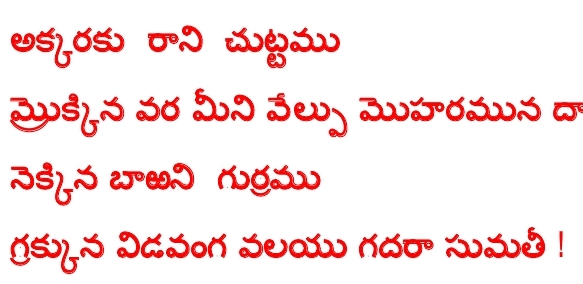 Thana kopame thana sethruvu
Thana saanthame thanaku raksha, dhaya chuttambou
Thana santhoshame swargamu
Thana dhukkhame narakamandru, thadyamu sumathee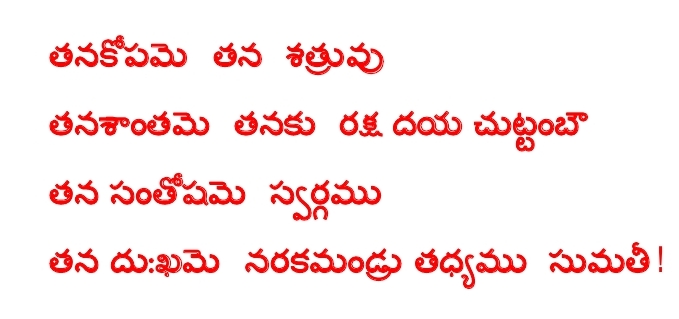 Thalanundu vishamu phanikini
Velayangaa thokanundu vrushikamunakun
Thala thoka yanakanundunu
Khalunaku niluvella vishamugadharaa sumathee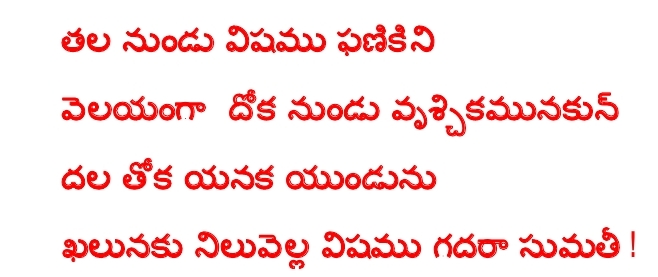 Kanakapu simhaasamuna
Sunakamu goorchundabetti subhalagnamunan
Vonaraga battamu gattina
Venukati gunamaela maanu vinaraa sumathee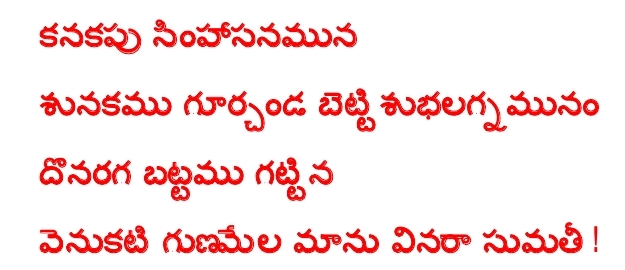 Adigina jeetham biyyani
Midimaelapu dhoranu golchi midukuta kante
Vadigala yaeddhula gattuka
Madi dhunnaka brathukavachhu mahilo sumathee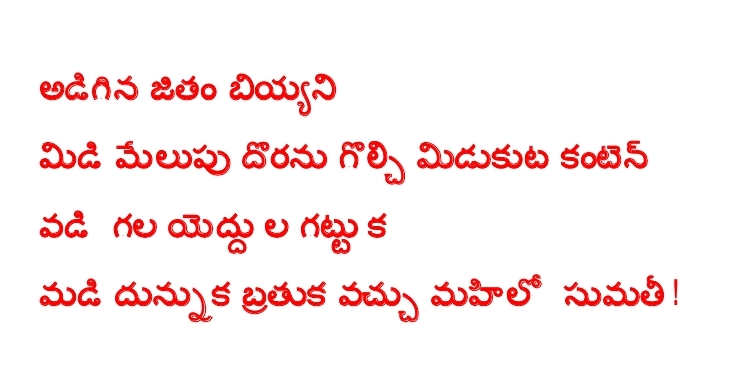 Yeppudu sampadha galigina
Nappudu bandhuvulu vathhu radhi yetlannan
Deppaluga jeruvu nindina
Gappalu padhivaelu chaerugadharaa sumathee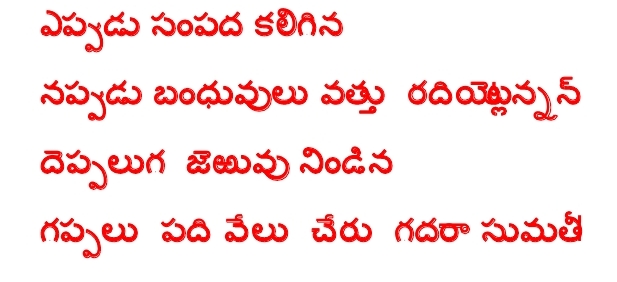 Upakaariki nupakaaramu
Vipareethamu gaadhu saeyu vivarimpamgaa
Napakaariki nupakaaramu

Top
Nepamennaka saeyuvaadu naerpari sumathee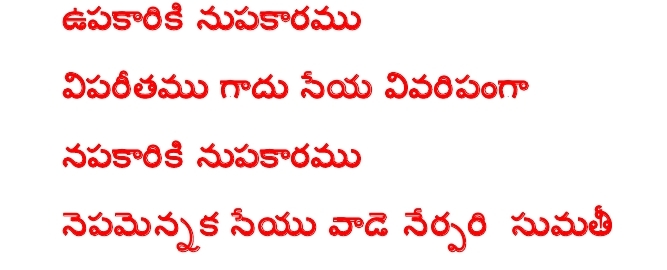 Sarasamu virasamu korake
Paripoorna sukhambu ladhika bhaadhala korakae
Peruguta viruguta korakae
Dhara thagguta hechchu korakae thadhyamu sumathee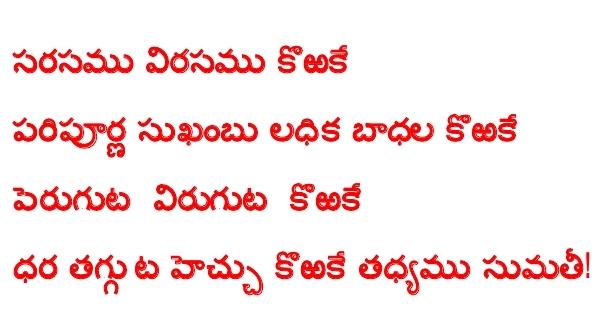 Cheemalu pettina puttalu
Paamula kiravainayatlu paamarududhagan
Haemambhu gooda bettina
Bhuveesula paalu jaeru bhuvilo sumathee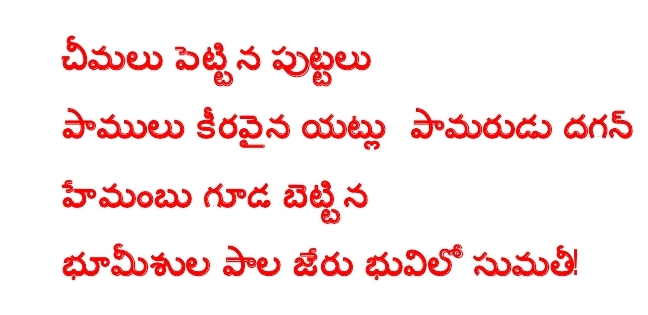 Vinadhagu nevvaru cheppina
Vininanthane vaegapadaka vivarimpathagun
Gani kalla nejamu dhelisina
Manujudepo neethiparudu mahilo sumathee





Balavanthuda naakaemani
Baluvuratho nigrahinchi palukuta maela?
Balavanthamaina sarpamu
Chalicheemala chaethajikki chaavadhe sumathee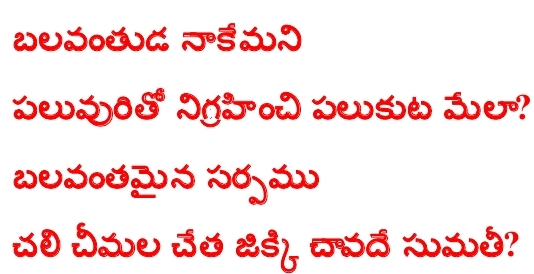 Piluvani panulaku bovuta,
Galayani sathi rathiyu, raju gaanani koluvun
Biluvani paeramtambunu,
Valavani chelimiyunu jaeya valadhura sumathee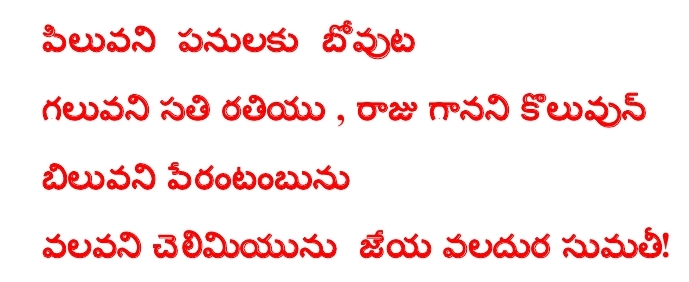 Navvakumee sabhalopala
Navvakumee thallithandri naadhulathodan
Navvakumee parasathulatho
Navvakumee vipravarula nayamidhi sumathee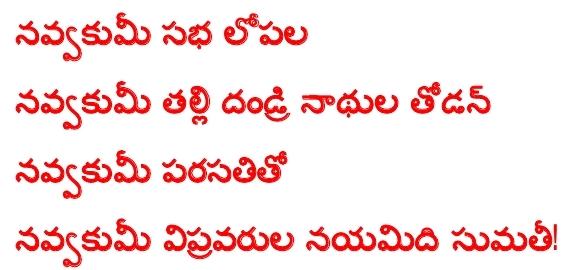 Koorimi gala dhinamulalo
Naeramulennadunu galuga naeravu mari yaa
Koorimi virasambainanu
Naeramulae thochuchundu nikkamu sumathee

Top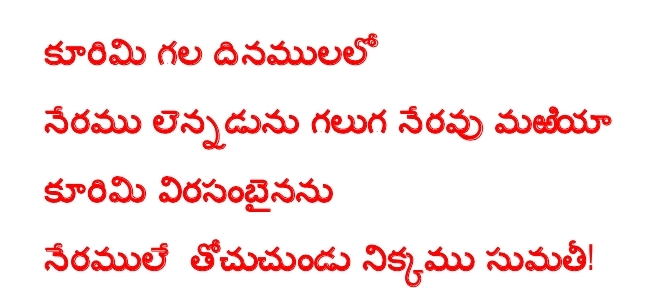 Vaemana
Chitthasuddhi galigi chaesina punyambu
Konchamyna nadhiyu kodhuvagaadhu
Vitthanambu marrivrukshambhunaku nentha
Vishwadhaabiraama vinura vaema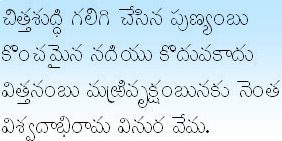 Anaga nanaga raaga mathisailluchunundu
Thinaga thinaga vaemu theeyaganundu
Saadhanamuna panulu samakooru dharalona
Vishwadhaabiraama vinura vaema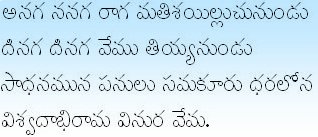 Aathmasuddhi laeni yaachaaramadhiyaela?
Bhaandhasuddhi laeni paakamaela?
Chitthasuddhi laeni sivapoojalaelara?
Vishwadhaabiraama vinura vaema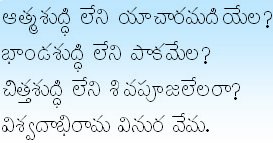 Ganghigovu paalu gaeritadainanu chaalu
Kadivedaina naela kharamupaalu
Bhakthikalugu koodu pattedainanujaalu
Vishwadhaabiraama vinura vaema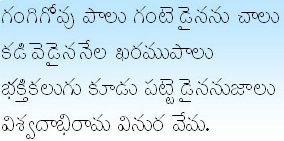 Maedipanduchooda maelimai yundunu
Pottavippichooda burugulundu
Birikivaani madhini binkameelagura
Vishwadhaabiraama vinura vaema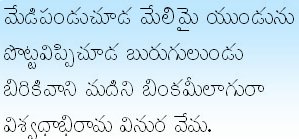 Alpudepudu palku naadambaramugaanu
Sajjanundu balku jallagaanu
Kanchumrogunatlu kanakambu mrogunaa
Vishwadhaabiraama vinura vaema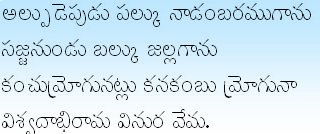 Vidyalaenivaadu vidyadhikula chentha
Nundinantha pandithundukaadu
Kolani hamsalakaada gokkera yunnattu
Vishwadhaabiraama vinura vaema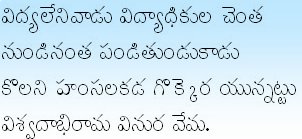 Uppulaenikoora heenambhu ruchulaku
Pappulaeni thindi phalamulaedhu
Yappulaenivaade yadhika sampannundu
Vishwadhaabiraama vinura vaema

Top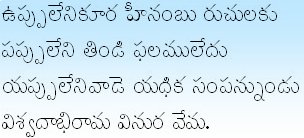 Uppugappurambu nrokkapolikanundu
Choodachooda ruchula jaadavaeraya
Purushulandhu punya purushuluvaeraya
Vishwadhaabiraama vinura vaema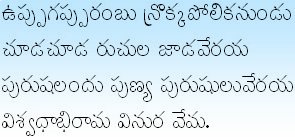 Annidhanamulunu nannadhanamae goppa
Kannathalli kante ghanamulaedhu
Yenna gurunikanna naekkudu laedaya
Vishwadhaabiraama vinura vaema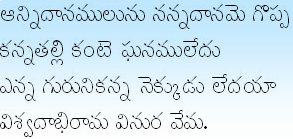 Kulamuloana nokadu gunaheenudundina
Kulamu chaedunu vaani gunamu valana
Vaelayu jaerakunandu vennu vedalinatlu
Vishwadhaabiraama vinura vaema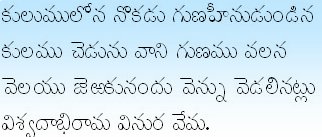 Mirapaginjachooda meedha nallaganundu
Gorikichoodu lona zhuruku manunu
Sajjanulaguvaari saaramitlundura
Vishwadhaabiraama vinura vaema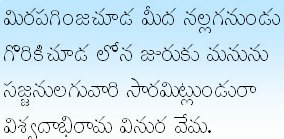 Sethakamu
Writer

Sumathi Sethakamu
Vaemana Sethakamu
Daasaradhee Sethakamu
Kumaara Sethakamu
Bhaaskara Sethakamu
Kaalahastheeswara Sethakamu
Krishna Sethakamu
Ambikaa Sethakamu
Raamalingaeswara Sethakamu
Jaanaki raama Sethakamu
Vaenugopaala Sethakamu
Madanagopaala Sethakamu
Hanumachchathakamu
Narayana Sethakamu
Barthtuhari Sethakamu(Telugu)
Bhadhradhri raama Sethakamu
Nrusimha Sethakamu
Sivadaeva Sethakamu
Raghuveera Sethakamu
Ambikaa Sethakamu
Venkateswara Sethakamu
Aanjaneya Sethakamu
Kukkutaeswara Sethakamu
Yama Sethakamu
Veeranaarayana Sethakamu



-
-
-
-
-
-
-
-
-
-
-
-
-
-
-
-
-
-
-
-
-
-
-
-
-



Badhdhena
Vaemana
Kancherla goapanna
Ficci appala narasu
Soorana kavi
Dhoorjati kavi
Nrusimha kavi
Raavipaati Tripuraanthakudu
Aadidhamu Soorakavi
Vaelpoori venkata kavi
Chaekoori Sidhdhaih
Chengalva raamakavi
Yerramilli suryaprakashakavi
Bammera Pothana
Yaenugu Lakshmanakavi
Paavuloori mallana
Saeshappa kavi
Sivadaeva manthri
Ayyala raju
Raavipaati Tripuraanthakudu
Taallapaaka chinnanna
Ayyala raju
Koochimanchi timmana
Ganapavarapu venkata kavi
Raavuri sanjeeva kavi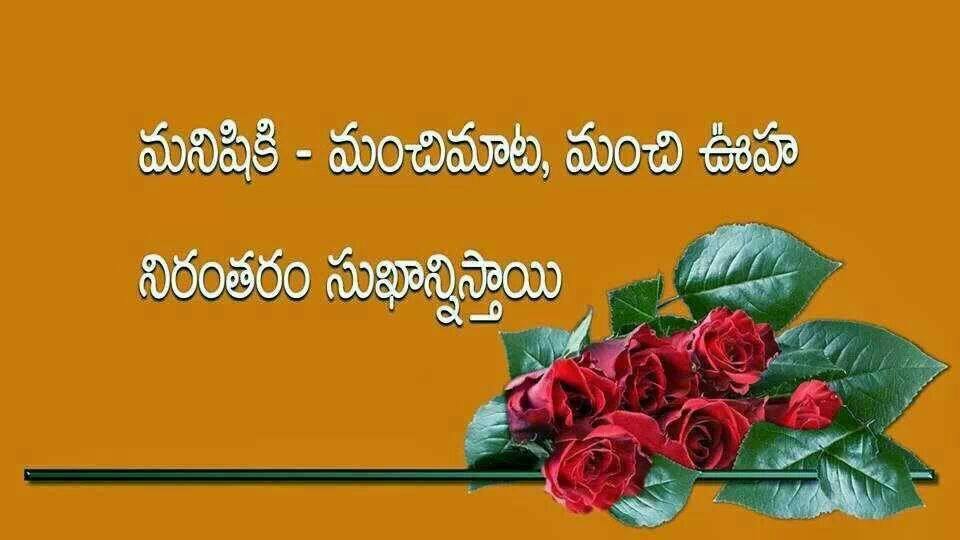 [ Aksharaalu | Calendar - 2000 | Calendar - 2001 | Calendar - 2002 | Calendar - 2003 [ Calendar - 2004 | Calendar - 2005 | Calendar - 2006 | Calendar - 2007 | Calendar - 2008 [ Calendar - 2009 | Calendar - 2010 | Calendar - 2011 | Calendar - 2012 | Calendar - 2013 | Calendar - 2014 | Calendar - 2015 | Calendar - 2016 | Calendar - 2017 | Calendar - 2018 | Calendar - 2019 |Calendar - 2020 |Calendar - 2021 |Calendar - 2022 |Calendar - 2023 | Chuttarikaalu | Cinema | Contributors | Culture | Deevenalu [ Disclaimer | DivineBooks | DivineLinks | DVDs | Homepage [ Jaathakaalu | Links to our sites | Mahila | Mee Page > | Music [ Nammakaalu | Old Songs | Oorlu | Pandugalu | Pramukhaandhrulu [ Pusthakaalu | Rangasthala Natulu | Registration | Saamethalu | Sanghaalu [ Samvatsaraalu | Sethakamulu | STD Codes | Teachers | Thyagayya Kirtanalu [ Vaarthaa Patrikalu | Vishaya Soochika | Weblinks

Missing Data?
Want to add URL?
Do you have a Telugu Website?

Want your name in Meeru Telugaa?


Page Last Updated:
Site to be viewed in 800 x 600 Resolution